About the Book
"This is a sheer delight. The world needs lots of Jakes. It's a must for kids of all ages and a great introduction to the magical world of the orchestra." —Beverly Sills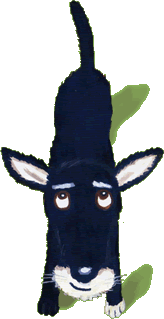 Jake the Philharmonic Dog is the first of a series of books designed to teach children about the performing arts. The main character is a jaunty five-year-old terrier with silver whiskers and pointy ears who, in the first book, gets to spend time at a grand orchestral hall with his human "dad" Richie, who is the orchestra's principal stagehand. The idea for these two characters comes from my work with the New York Philharmonic, where the principal stagehand does, indeed, have a dog named Jake, who assists him in many ways.
Richie notices that Jake always responds to music. His tail beats time to songs on the radio, he barks at car horns, he sings with the birds and spins when he hears thunder. Richie decides that it would be a wonderful idea to take this musical pup to work with him one day. The adventure is a triumph. Not only does Jake interact with the musicians and learn about the different instruments, but also, he triumphantly saves the day by recovering the conductor's missing baton just in time for the concert to begin.
The story is humorous and touching, and in a light-hearted way will introduce children, ages three to eight, to the world, terminology and experiences of classical music and the people who perform it. It is the perfect book to be read before or after a child's first visit to the symphony. Parents and teachers can use it to supplement music listening and lessons. Musical terms such as conductor, baton, melody, bravo and others are woven into the text for explanation and advancement. A glossary entitled musical "notes" is included, as well.
You might ask why one would choose a dog to teach any subject. According to Dr. Marty Becker in the Healing Power of Pets, preschool children believe that the animals listen to them, understand them, and in some cases the children are certain that the animals are communicating their feelings. In a study, he found that when elementary school-age children ranked their more significant relationships, pets got the highest scores as those most likely to be there "no matter what." A study of third graders asked to name their top five relationships included their dogs as often as their mothers and fathers, and noted that they considered the animals more comforting than a best friend.
"'More Bach than Bark' This is a wonderful read for dog lovers, music lovers and any child who loves a good story. Jake is certain to win Best in Show."
—Itzhak Perlman
(read more "Bravos" for Jake the Philharmonic Dog)
Order Jake the Philharmonic Dog from:
Reading level: Ages 4-8
Hardcover: 32 pages
Publisher: Walker Books for Young Readers (August 22, 2006)
ISBN: 0802795528
Proceeds from sales of Jake the Philharmonic Dog go to the New York Philharmonic.