About Karen LeFrak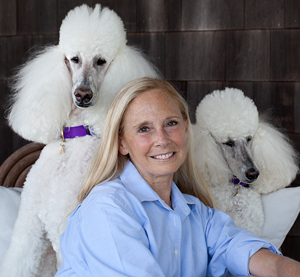 Karen LeFrak is a creative and philanthropic New Yorker. She is a magna cum laude graduate of Mt. Holyoke College. Karen continued her education earning an MA in Music History from Hunter College. Her thesis "In Search of the New Classics," which surveyed the commissioning activity of the New York Philharmonic from 1842-1986, won the Dean's Award in Arts and Humanities. Karen's education also includes courses in archival management and historical editing at New York University. In 2010, in recognition of outstanding achievement, the Hunter College Alumni Association elected her to the Hunter College Hall of Fame.
Karen studied classical piano, a passion since childhood that renewed her interest in composing. She studied composition privately with Robert DeGaetano, Jonathan Anderson, and Dani Boico. Her works have been performed at prestigious venues in the United States, Europe, Russia and Asia. Past performances include Five Brass Pieces performed by the New York Philharmonic Principal Brass at Make Music New York and Five Pieces for Percussion performed by the New York University and Juilliard School Percussion Ensembles. Commissioned by New York Philharmonic cellist Eileen Moon, Ms. LeFrak's We'll Never Say Goodbye was performed by New York Philharmonic Concertmaster Glenn Dicterow and New York Philharmonic Principal Horn Philip Myers at the Bethel Woods Chamber Music Series.
Her ballet score Cake was commissioned by the American Ballet Theatre Studio Company and performed at the Joyce Theatre in New York, the Long Island Mozart Festival, and at the Guild Hall Center for the Visual and Performing Arts. Also commissioned by the American Ballet Theatre, her ballet score Pavlovsk has toured in the United States and Europe. Ms. LeFrak's ballet score Gentle Memories was choreographed by Jiri Bubenicek and performed with Ekaterina Konderova at the Koch Theatre at Lincoln Center, and at the new Concert Hall of the Mariinsky Theatre in Saint Petersburg, Russia. Her ballet Tous les Jours, choreographed by Marcelo Gomes for Chase Finley was performed on the main stage of the Mariinsky Theatre, and at Moscow's Kremlin for the 250th anniversary of the Bolshoi Ballet School.
Her children's ballet score, Bark! In The Park, choreographed by Chase Brock was commissioned and performed by New York Theatre Ballet.
The orchestral score of Pavlovsk was premiered by the Shanghai Symphony Orchestra in April 2013. In September 2013, a number of orchestral, chamber and solo works from Ms. LeFrak's catalog was recorded by the St. Petersburg Chamber Philharmonic. The Duet for Horn and Cello, a commission by the Young America Grand Prix, was performed at Lincoln Center's Koch Theatre in April 2014. September 2014 saw the world premiere of her String Serenade at the opening of the new Shanghai Symphony Orchestra's Chamber Music Hall. Her 3/4 Suite, a collection of piano miniatures, was performed by Anne-Marie McDermott in 2014 at Bethel Woods. The Trio for Oboe, Horn and Piano was performed at the Warwick Music Series by New York Philharmonic Principal players Liang Wang and Philip Myers with pianist John Novacek, as well as at the Bethel Woods Chamber Music Series in October 2014, with pianist Joyce Yang. An orchestrated version of the Trio was also performed by Liang Wang and Philip Myers as a double concerto with the Shanghai Symphony Orchestra in April 2013.
The world premiere of A Bite of the Apple, Salute to New York, with the New York Philharmonic and with a special video presentation produced by New York City and Company, took place in January, 2015, at Avery Fisher Hall of Lincoln Center, and was followed by Should I Stay or Should I Go for Flute and String Quartet, performed at the Rhinebeck Chamber Music Society Concert Series with flutist Eugenia Zuckerman. Windy Sand, a ballet score for the Joffrey Ballet, was choreographed by Alexei Kremnev and performed at the Museum of Contemporary Art of Chicago in March 2015. Windy Sand had its second and third performances, back to back, in April 2015 by the Youth American Grand Prix, at the Koch Theatre at Lincoln Center, New York followed by a performance at the Joffrey Gala in Chicago. The premiere of Hungarian Folk Song for clarinet, viola, and piano took place in June 2015 at the Chelsea Music Festival of New York to great acclaim, and was followed by the premiere of Cat's Cradle, featuring the score The Assembly with the New York Theatre Ballet, for Danspace Project, New York.
A Bite of the Apple, Salute to New York, was performed on July 9, 2015, while on tour with the New York Philharmonic, to celebrate the beginning of the Shanghai Orchestra Academy - a partnership of the New York Philharmonic, Shanghai Symphony Orchestra and the Shanghai Conservatory of Music.
The premiere of Gloriosa, a piano trio, with the Gloriosa Trio, took place on September 23, 2015, at the New Jersey City University and at the Harvard Club in New York. Several piano solo works including Ombres d'été were performed by Yoonie Han of the Gloriosa Trio at Symphony Space's new piano series on November 12, 2015, and the Prelude for 8 Celli was premiered by the Sejong Soloists at a benefit concert at Alice Tully Hall on November 21, 2015. Duettino for violin and piano was performed at Bethel Woods Center for the Arts in New York on November 22, 2015. On January 10, 2016, Gloriosa received an encore performance by the Gloriosa Trio at the Ridotto in Huntington, NY, on a program of piano trios by Haydn and Beethoven. Gentle Memories received its San Francisco Ballet premiere to critical acclaim on January 21, 2016 at the San Francisco Ballet's Season Gala. The Cello and Horn duet, choreographed by Gemma Bond for her Danspace Project at St. Mark's Church, NY, was performed on February 4-6, 2016. Gloriosa was recorded with the Gloriosa Trio on Colorado Public Radio on March 31, and received repeat performances at the Boulder Chamber Orchestra's Chamber Music Series on April 1 and 2, 2016.
The Ballet Pavlovsk, choreographed by Maxim Petrov, received its world premiere on April 7, 2016 at the Mariinsky Theatre in Saint Petersburg, Russia. The full orchestral score was recorded by the Mariinsky Orchestra, with costumes designed by Tatiana Noginova. The ballet was included in a group of works by emerging choreographers as part of the week-long XVI International Ballet Festival MARIINSKY. The work's success earned a place among the Mariinsky's general repertory as well as repeat performances at the Theatre's Stars of White Nights Festival and the First International Mariinsky Far East Festival on the Primorsky Stage in Vladivostok.
Urban Tango for piano and violin, was premiered on April 18 at the Cutting Edge Concerts New Music Festival at Symphony Space in New York.
The world premiere of Schubertia took place on May 13 and 14, 2016, with 1B1 ensemble at National Sawdust in Brooklyn. An orchestrated version of Nothing Left was premiered at the Miami Symphony on May 15.
Since its premiere in April 2016, Pavlovsk was repeated at the Stars of White Nights Festival at the Mariinsky Theatre in Saint Petersburg on June 19, and at the First International Mariinsky Far East Festival in Vladivostok on August 8, 2016. Light, a commission by the Miami Symphony, was premiered on November 20, 2016, and included a video installation celebrating the art of Sandra Muss.
Recent performances include a White House performance of the New Yorker Trio and Acceptance at the International Women's Day Lunceon, Ivan's Song for symphony orchestra was premiered at Mount Holyoke College on January 21, 2017. Tous les Jours II was performed with the Youth America Grand Prix on April 13, at the Koch Theatre in New York, Space with Ballet Barnard College on April 21 and 22, Opus 1 with the Miami Symphony at the Miami design center, Creative Arts for clarinet and piano at Concert Artists Guild Gala at Tribeca Rooftop on June 6, and the California premiere of A Bite of the Apple took place at Festival Napa Valley on July 16. In 2017, Karen was featured in Good Housekeeping's 10 Amazing Women in the Arts Over 50.
Future performances Karen's music include the New Yorker trio with the Gloriosa Trio at Friends of Music in Stamford on October 15 and at the Parrish Art Museum on October 20, Tous les Jours at Gala Crescendo Con La Musica in Geneva, Switzerland, on October 19, as well as a repeat performance of Windy Sands in Portugal.
Ms. LeFrak has recently completed Festival, a one-movement cello concerto, Schubertia for string orchestra, and New Yorker - a piano trio.
Her third children's book, Best in Show—was published by Walker Books, a division of Bloomsbury in February 2011. It follows publication of her books Jake the Philharmonic Dog and Jake the Ballet Dog. Karen's fourth book is projected to be released in Spring 2019 by Random House. Karen donates her proceeds from her books to such causes as the New York Philharmonic, the American Ballet Theatre, and the New York City Ballet.
Her interests include breeding and showing champion Standard Poodles with the expert guidance and mentoring of Wendell Sammet. She is proud of their illustrious show dog Ch. Ale Kai Mikimoto on Fifth who earned two consecutive group wins at Westminster and Best of Breed at the Poodle Club of America. "Miki" retired from competition as America's number one Standard Poodle with eighty-eight Best in Show titles to his name. Miki had sired close to one hundred champions and Best in Show winners.
She is a Director of the New York Philharmonic where she serves as the chairman of the Music Policy Committee and is on the Executive Committee. She formerly headed the Special Events Committee and served on the Education Committee as well. In addition, she chaired the Orchestra's 150th Anniversary Ball, presided over the Volunteer Council, and as an Assistant Archivist responded to research questions about the Orchestra's history. Karen also served as an Archival Curator of Philharmonic exhibits. Because of her interest for the arts, she served on the New York State Council on the Arts.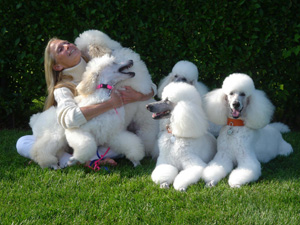 As President of the Women's Committee of the Central Park Conservancy she received the Frederick Law Olmstead award. Mrs. LeFrak is also on the President's Council of the society of Memorial Sloan-Kettering, after serving on the Administrative Board for a number of years. She is also a former Vice president of the societies "Dream Team," which grants wishes to terminally ill patients.
Karen was a co-chairman of the American Kennel Club's DOGNY project, which raised over two million dollars for the benefit of search and rescue dogs across the country. She is an Honorary Board member of the Delta Society, an organization that certifies animals and handlers to perform animal-assisted therapy to medically fragile children and adults. Karen has taken her retired, certified show dogs to Mt. Sinai Hospital and New York University Hospital. With her dogs, she provided therapy to the victims and families of 9/11. For these efforts, in 2004 she was awarded both the James Hammerstein and the New York Women's Agenda Star Breakfast Awards.
Karen is married to Richard LeFrak, president of the LeFrak Organization, one of the world's largest land development and building firms. They currently reside in Manhattan, Southampton, and Miami and have two sons, Harrison and James, three grandchildren, and a pair of standard poodles.